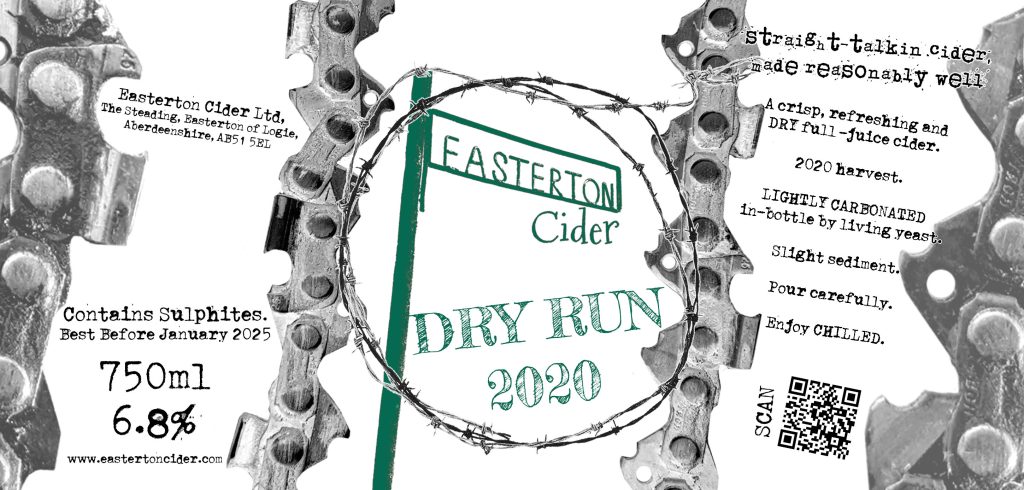 A balanced, refreshing blend of local, donated apples and Somerset Dabinett
The act of gearing up production from a few tens of litres to a few hundred is a reasonably daunting one, never let anyone suggest otherwise. A raft of new skills must by learned, and obstacles overcome. The cider is no longer portable by hand –  food-grade pumps and hoses must be bought and new workflows adapted, skateboards are built to move barrels up to 220 litres around the shed on, and the shed itself has to be lined and fortified to keep the worst of the winter cold out, as taking the ciders into the spare room to get them started off in the warm is no longer a viable or desirable option. After about 5 months of cool, slow fermentation the ciders are tasted and re-tasted and test blended, before the final blends are committed to stainless steel tanks to drop clear, get to know each other and gain depth and character over several further months of aging.  But we got there, one way or another, and the end result surpassed expectation. This is the Dry Run, the pioneer batch, a fully dry cider which (at 600 litres) was the main blend from our 2020 season.
The ratio of local apples to the imported Dabinett is around 50/50. The locals provide clean, fresh-apple notes and angular acidity, the Dabinett brings its distinctive aroma over the top and provides a mildly tannic, lingering finish which sets you up for the next sip. Best served from the fridge, like you would with a good white wine.
Ingredients:
Freshly Pressed Apple Juice
Yeasts – Lalvin QA23, Lalvin 71b
Yeast Nutrients – Lallemand Go-Ferm Protect, Lallemand Fermaid "O"
Priming sugar @ 8g per litre to provide a light in-bottle carbonation
Sulphites