The pick of the local 2021 harvest
Cookers & eaters,
Brisk & breezy,
Chill it a bit,
Goes down so easy!
Retail synopsis:
The local apple harvest of 2021 was a bit of a washout, with only a few hundred kilos being readily scavengable. A lot of these went to add acid to our bittersweet blends but, before doing that, we blended together the absolute best 120 litre barrelful we could from the local fermentations. This was aged a further 12 months to bring out the full depth and nuance of the fruit.
Garioch (pronounced 'Geery') is the fertile farming area known as "the granary of Aberdeenshire" where Easterton Cider is based.
A fully dry, full-juice,  fresh & fruity craft cider presented in 160 numbered 750ml bottles.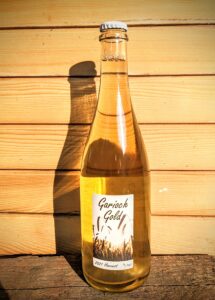 Ingredients:
Freshly Pressed Apple Juice
Yeast – Lalvin K1-V1116
Yeast Nutrients – Lallemand Go-Ferm Protect, Lallemand Fermaid "O"
Priming sugar @ 8g per litre to provide a light in-bottle carbonation
Sulphite
Cornfield art courtesy of Dall-e